Events
Interactive Reading

December 03, 2019 10:45am – 11:30am

Come join Jeanne, Francesca, Isabella and Just Bunny at an interactive, fun reading of this brand new, not-even-released children's book that's sure to tug at your heart strings and add to your appreciation of the wonderful fire fighters in your community. Jeanne will be available to sign copies as well!

Southlake Public Library
1400 Main St
Ste 130
Southlake, TX 76092
(817) 748-8243

Pre-Release Book Signing

December 14, 2019 4:00pm –

Jeanne LaSala Taylor will read and sign copies of Just Bunny and the Great Fire Rescue in advance of the book's February 4th, 2020, release date. Come get your advance copy of this great new book—a perfect holiday gift!—and support a great cause; part of the proceeds will go to benefit the NYFF Burn Unit Foundation. Open to the public, there will be fire trucks to explore, fire fighters to chat with, refreshments and fun and an animated and interactive reading of the book, appropriate for kids of all ages. A great neighborhood event for all!

Larchmont Fire Department
120 Larchmont Ave
Larchmont, NY 10538

Meet Jeanne at the annual Santa Rescue

December 15, 2019 12:00pm –

Two great Rescues in one!! Come to the annual Santa Rescue at the NY Fire Museum and get your own personally signed copy of Just Bunny and the Great Fire Rescue! Come meet the author inside the museum after Santa is safely on the ground, enjoy the music, sip hot chocolate and eat snacks— and get your signed copy of the book!

Cookies, Milk and a Bedtime Story with Jeanne LaSala Taylor and the Larchmont Fire Department

January 15, 2020 6:00pm – 8:00pm

LAC Preschool invites you to a Pajama Party in the Carhart Room. Join us for Cookies, Milk and a Bedtime Story with Jeanne LaSala Taylor and the Larchmont Fire Department

Larchmont Avenue Church Preschool
Larchmont, NY

Book Reading and Signing

January 25, 2020 11:00am – 1:00pm

Join Jeanne for a reading and signing event at Anderson's Book Store

Anderson's Book Store
96 Chatsworth Ave
Larchmont, NY

Launch Event at Greenwich House Music School

February 01, 2020 11:00am – 1:00pm

Come celebrate the release of

Just Bunny and the Great Fire Rescue 

at the

Book Launch Event on Saturday, February 1st at 11am

. The author --and the FDNY!-- will be in attendance to read and sign the book which will be for sale (cash, credit, Venmo accepted). The true heroes of the story, Captain Matteo and the fire fighters of Ladder Company 5 and Engine 24, will be on hand to meet kids, show them the cool trucks parked outside and educate kids on Fire Safety. There will be crafts and refreshments. The event will take place in the Renee Weiler Concert Hall at the

Greenwich House Music School

; 46 Barrow Street. Hop on over and experience this charming, fun and funny book that teaches kindness, empathy and community before it goes on sale to the public!

Click here for more information!

Just Bunny Official Retail Release Day!

February 04, 2020 All Day Event

Just Bunny and the Great Fire Rescue is officially released for sale on Amazon and Barnes & Noble!

Bookfair Event with FDNY

February 23, 2020 11:00am – 4:00pm

Join Jeanne for a reading and book fair event featuring the FDNY Fire Safety Education Unit for a special presentation on fire safety

Barnes & Noble Staten Island Mall
2655 Richmond Ave #1590
Staten Island, NY 10314

Tig & Peach Book Signing Event

March 09, 2020 10:30am – 1:30pm

Join us for a book signing at Tig & Peach in Pelham!

Tig & Peach
125 Wolfs Ln
Village of Pelham, NY 10803

Tig & Peach Book Signing Part 2

March 09, 2020 4:00pm – 6:00pm

Join us for a second book signing at Tig & Peach for the older kids!

Tig & Peach
Tig & Peach
Village of Pelham, NY 10803

B&N Manhasset Reading + Signing Event

March 28, 2020 12:00pm – 2:00pm

Join Jeanne, Just Bunny, and local firefighters for a reading, signing, and fire safety event at Barnes & Noble Manhasset!

Barnes & Noble Manhasset
1542 Northern Blvd
Manhasset, NY 11030

Facebook Live Reading and Q&A!

April 24, 2020 All Day Event

Join Jeanne Live on Facebook at Just Bunny Books for a reading and Q&A!

B&N Park Slope Book Fair

May 02, 2020 11:00am – 12:30pm

Join Jeanne for a book reading and signing for the PS 131 Book Fair at Barnes & Noble Park Slope

Westchester Children's Book Festival

May 03, 2020 10:00am – 3:00pm

Join us at this popular children's book festival at the Mohawk Day Camp in White Plains, NY.  Come meet Jeanne and get a signed copy! Stay tuned for ticket information!

Mohawk Country Day Camp
200 Old Tarrytown Road
White Plains, NY 10603

B&N Union Square Storytime Reading

May 16, 2020 12:00pm – 2:00pm

Join us for a storytime reading and signing event at the Union Square Barnes & Noble in New York City!

Barnes & Noble Union Square
33 E 17th St
New York, NY 10003

Fire Prevention Awareness Outdoor Event and Book Signing!

October 26, 2020 11:00am – 12:00pm

On October 26th, in the newly renovated Constitution Park, please join the Larchmont Fire Department and the Larchmont Public Library for a safe, socially-distant, outdoor event in honor of Fire Prevention Month! Jeanne LaSala Taylor will be reading her children's book Just Bunny and the Great Fire Rescue (which will also be available for purchase and signing) and the Fire Department will be providing fire safety education for children of all ages. The event has a limited capacity of 25 people so we are offering three times to join us, 11am, 1pm or 4pm.  Please register with the library to secure your spot!

Constitution Park
120 Larchmont Avenue
Larchmont, NY 10538

Fire Prevention Awareness Outdoor Event and Book Signing!

October 26, 2020 4:00pm – 5:00pm

On October 26th, in the newly renovated Constitution Park, please join the Larchmont Fire Department and the Larchmont Public Library for a safe, socially-distant, outdoor event in honor of Fire Prevention Month! Jeanne LaSala Taylor will be reading her children's book Just Bunny and the Great Fire Rescue (which will also be available for purchase and signing) and the Fire Department will be providing fire safety education for children of all ages. The event has a limited capacity of 25 people so we are offering three times to join us, 11am, 1pm or 4pm.  Please register with the library to secure your spot!

Constitution Park
120 Larchmont Avenue
Larchmont, NY 10538

Book Signing at Anderson's 75th Anniversary Celebration!

September 25, 2021 1:00pm – 1:30pm

Join Jeanne and other local authors for a book signing, balloons, food trucks, free giveaways and fun at Anderson's 75th Anniversary Celebration!  Anderson's Larchmont is an independently owned bookstore in Larchmont celebrating its 75th year in business.  Now that's something to hop about!  The event runs all day, but Jeanne will be there signing copies of Just Bunny and the Great Fire Rescue from 1-1:30.

Book Signing at Anderson's 75th Anniversary Celebration!

Anderson's Larchmont

96 Chatsworth Ave

Larchmont, NY 10538

(914) 834-6900

AndersonsBooksNY.com

Book Signing at the Food Truck Festival!

October 02, 2021 12:00pm – 4:00pm

What's better than a field full of yummy food trucks?  A field full of yummy food trucks and BOOKS! Don't miss this fabulous annual event at Memorial Park in Larchmont where you can get your grub on AND get your signed copy of Just Bunny and the Great Fire Rescue! Jeanne will be there signing copies and kids will be able to relax under the tent and read with their favorite stuffy.

Town of Mamaroneck Recreation & Fire Department's
4th Annual
Fall Food Truck Festival
at Memorial Park, Larchmont

This family-friendly event will feature a variety of delicious food options, live music, a book signing by a local children's book author and a Pumpkin Patch by Larchmont Nurseries.

Featured Food Trucks - Updated 9/20/21
A Taste of Grill
Anthony's Hot Dogs
Billy & Pete's Social
Cousins Maine Lobster
Crazy Taco-Mex
Galapagos Food Truck
Gyro Uno
Harbour Fish & Co.
Leila's Crepe Station
Longford's Ice Cream
MAC's Food Truck
Pizza Vitale
Poke' Motion
Sloppie Joe's
The Espresso Guys
Westchester Burger Co.

Fall Food Truck Festival

Memorial Park

4 Baldwin Avenue

Larchmont, NY 10538

fb.me/e/20Pq4ohvQ

FDNY Shop Book Signing!

December 18, 2021 All Day Event

Rockefeller Center in December is where it's at!  And now even more so!  Join Jeanne at the FDNY Fire Zone Shop for a fun book signing with two other children's book authors and check off some holiday shopping!  While you shop, the kids can climb on a real fire truck, talk to real live FDNY fire fighters and learn about the history of the FDNY! This event is hosted by the FDNY Foundation.

FDNY SHOP KIDS BOOK SIGNING EVENT

An Afternoon with the Authors

FDNY Fire Zone

61 West 48th St

New York, NY 10020

212-698-4520

www.fdnyfirezone.org
NY Fire Fighter's Burn Center Foundation Donation Day! – 6/11/21
  
What an amazing afternoon with the NY Fire Fighter's Burn Center Foundation and El Barrio's Finest–FDNY Engine 53/Ladder 43 in East Harlem. I had my first meal at a fire station! And I was able to give a portion of the proceeds from the sale of the book to this amazing organization. A dream came true!
Here are some fun photos of the many readings and book signings for Just Bunny and the Great Fire Rescue!
Would you like to have Just Bunny come to your bookstore, library, school or fire house? Contact [email protected] and we will hop on over!
Girl Scouts First Aid Badge Workshop at the Town of Mamaroneck FD – 5/1/22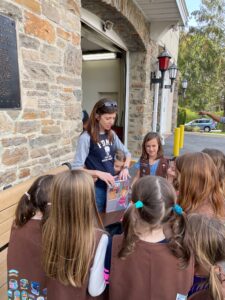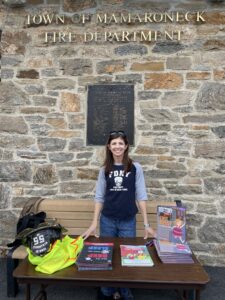 An Afternoon with the Authors at the FDNY Fire Zone in Rockefeller Center – 12/18/21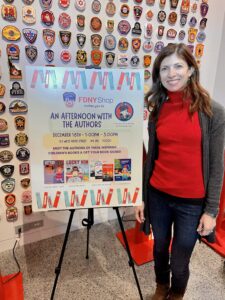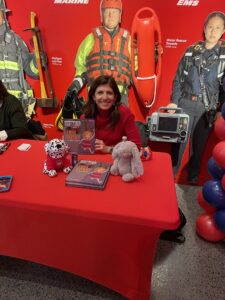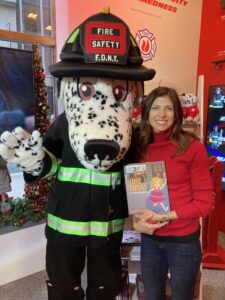 Town of Mamaroneck Fall Food Truck Festival- 10/2/21
  
Andersons Larchmont 75th Anniversary Celebration – 9/25/21

Southlake Public Library Interactive Reading – 12/3/19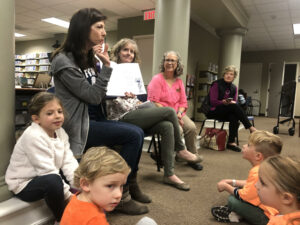 Larchmont Fire Department Signing – 12/14/19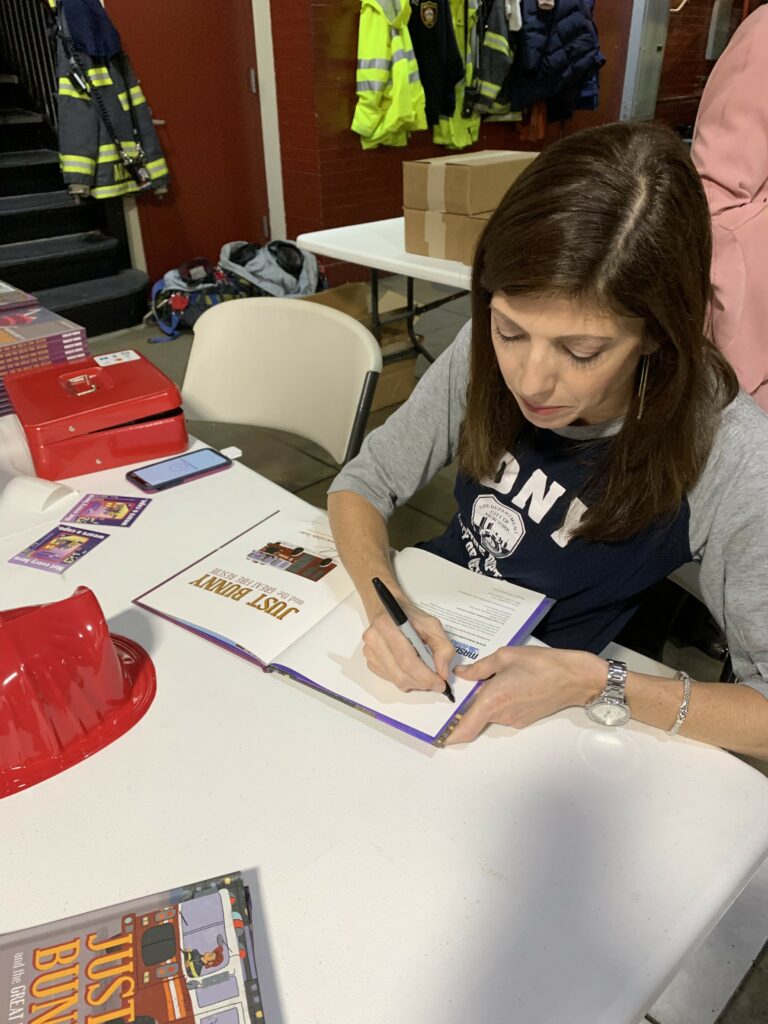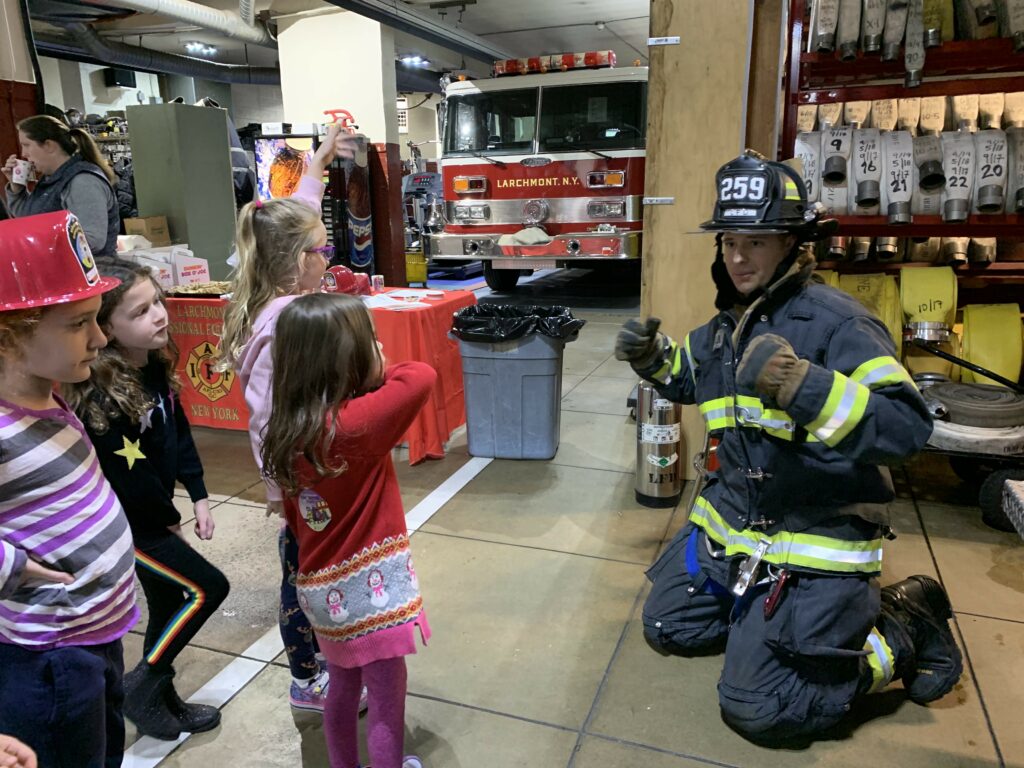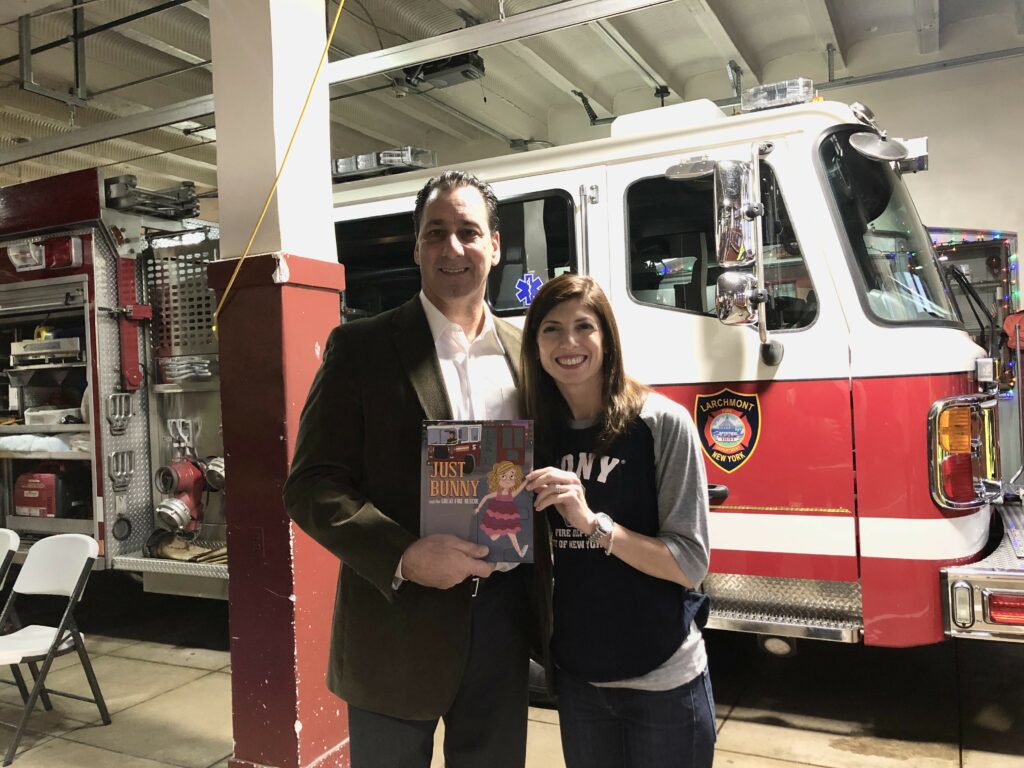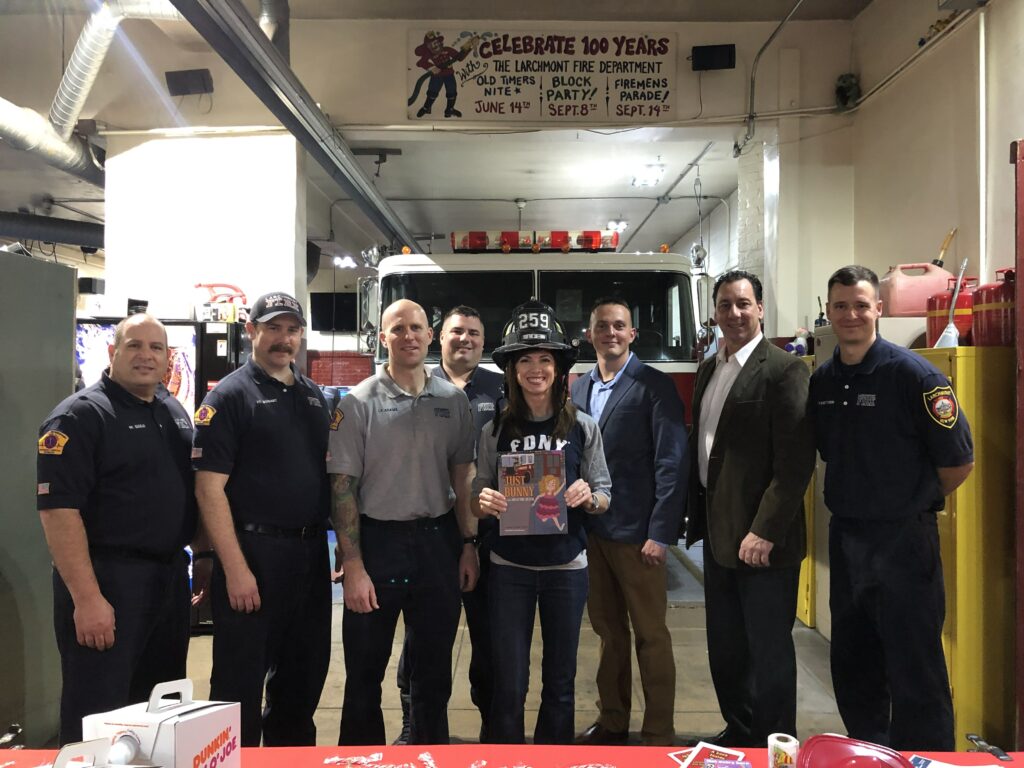 New York City Fire Museum Annual Santa Rescue – 12/15/19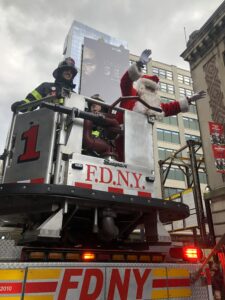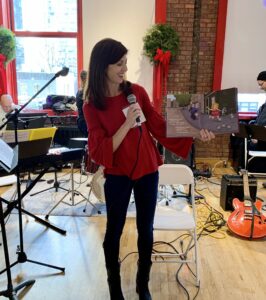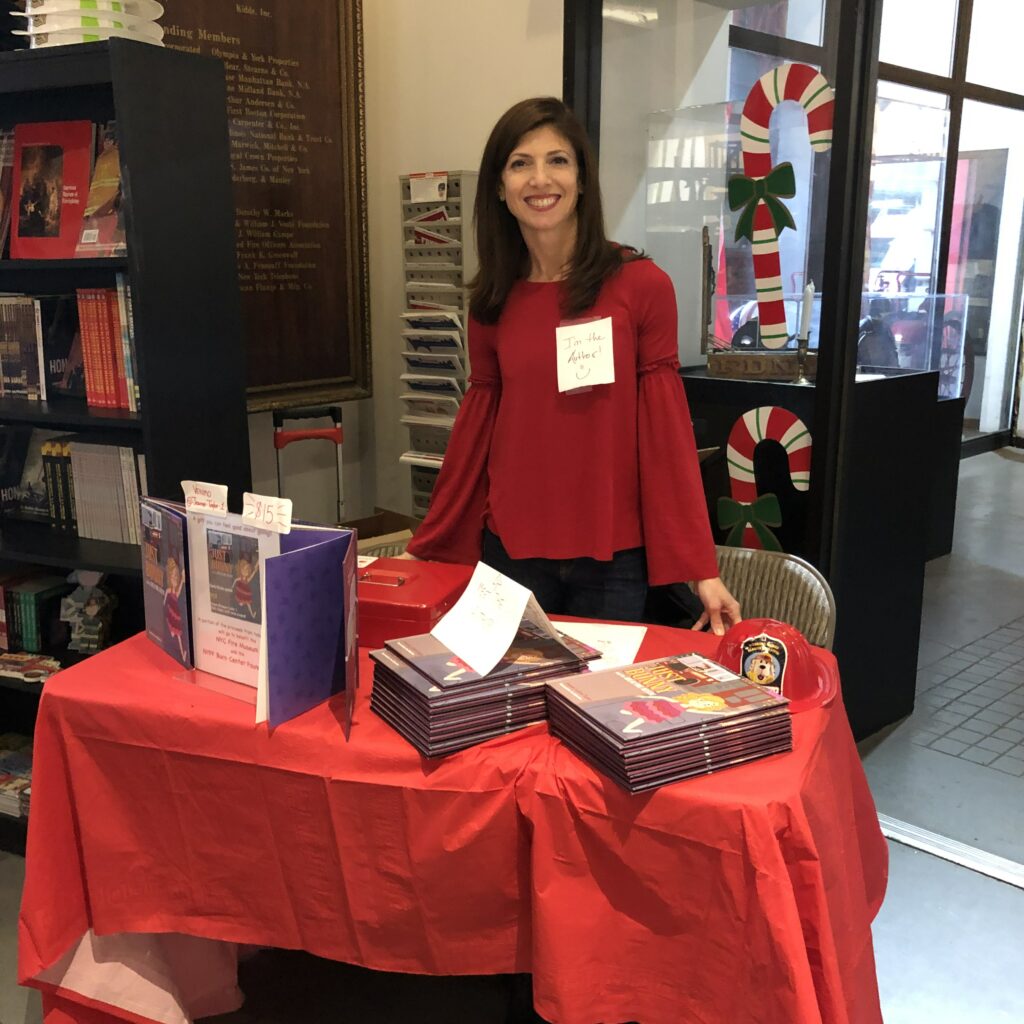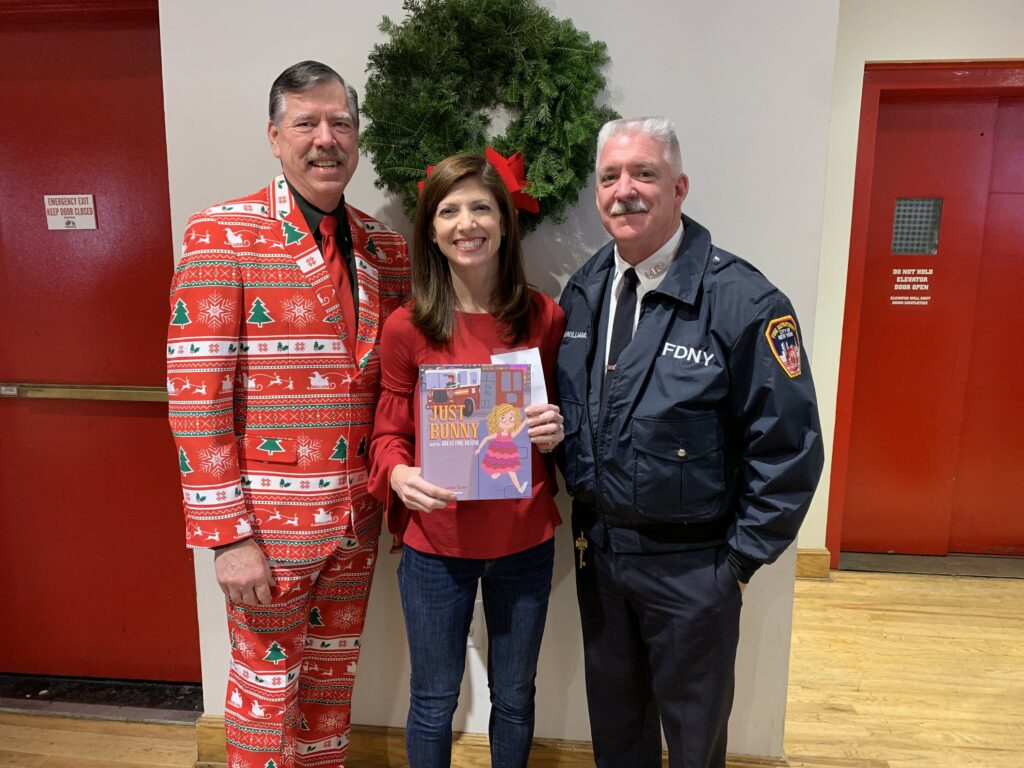 "Cookies, Milk and a Bedtime Story" at Larchmont Avenue Church – 1/15/20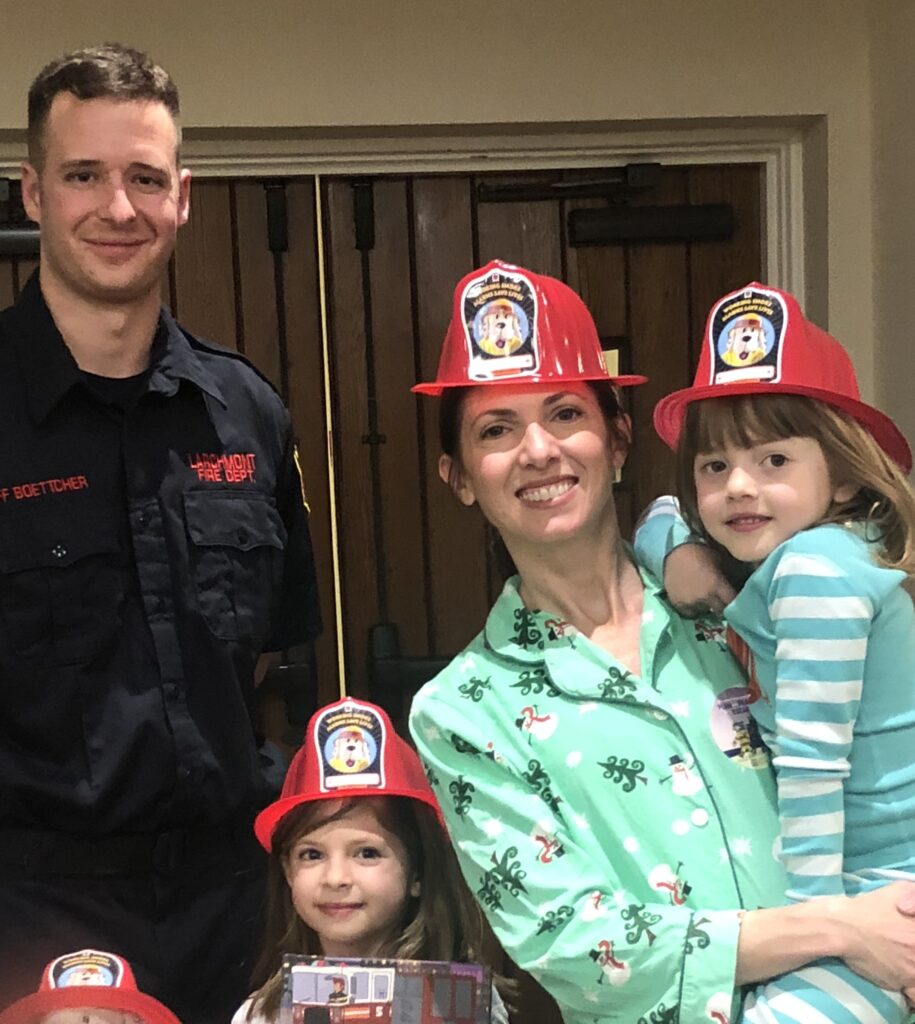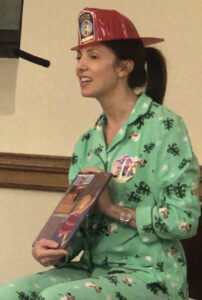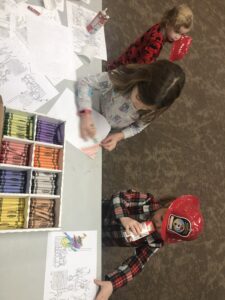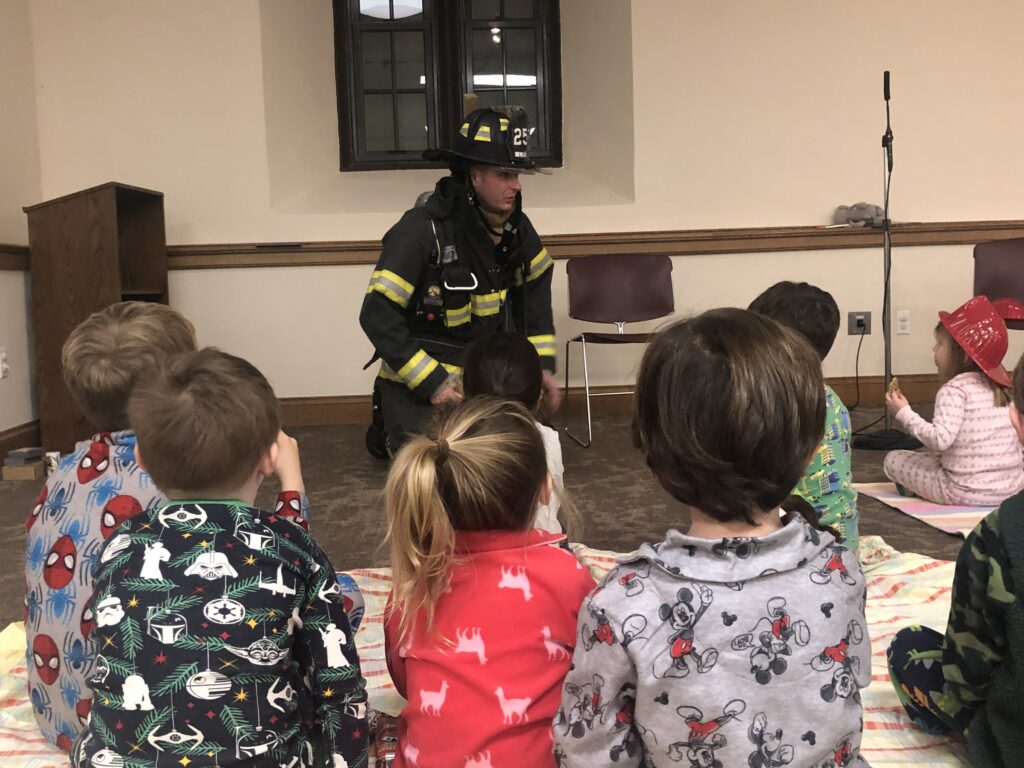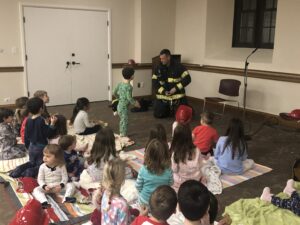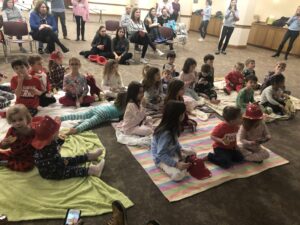 Anderson's Book Store Reading & Signing – 1/25/20
  
Book Launch Event at Greenwich House Music School – 2/1/20 (Photos by Max Guliani)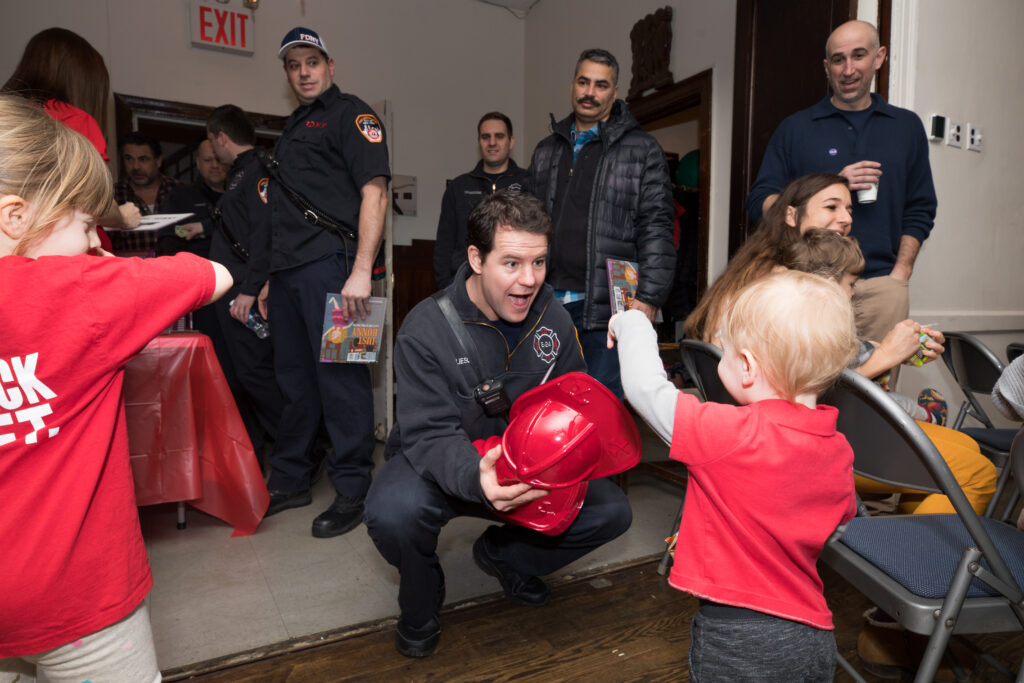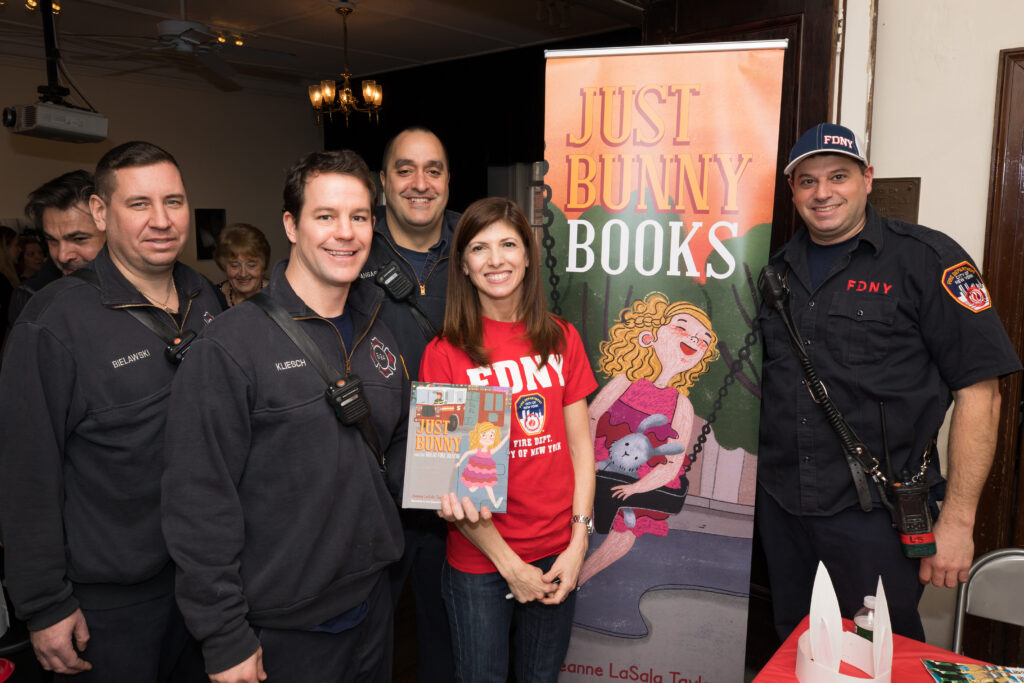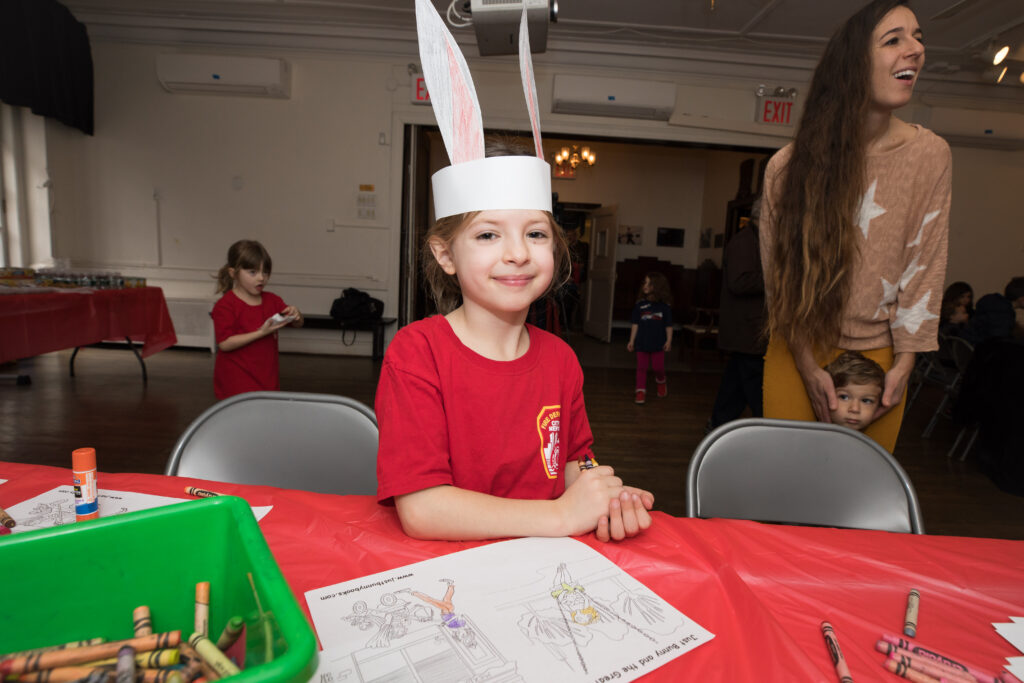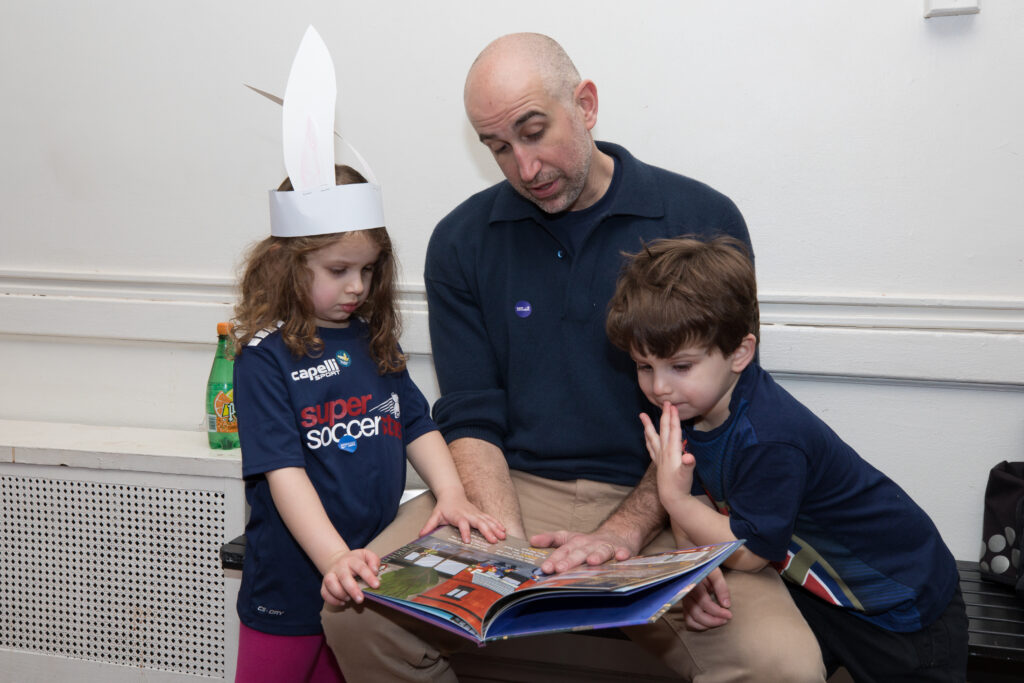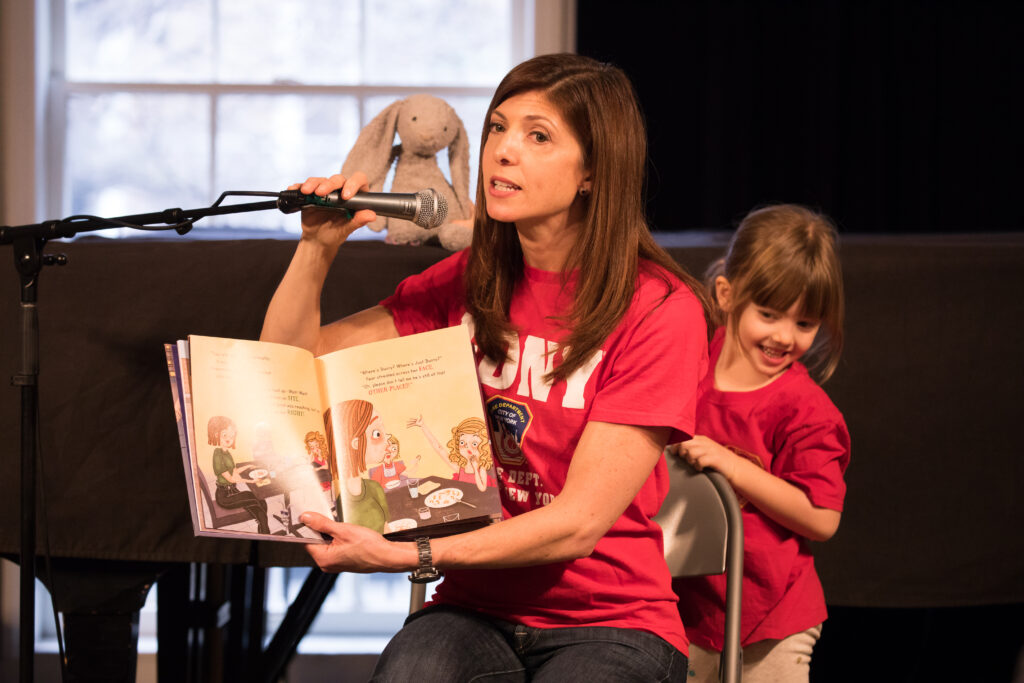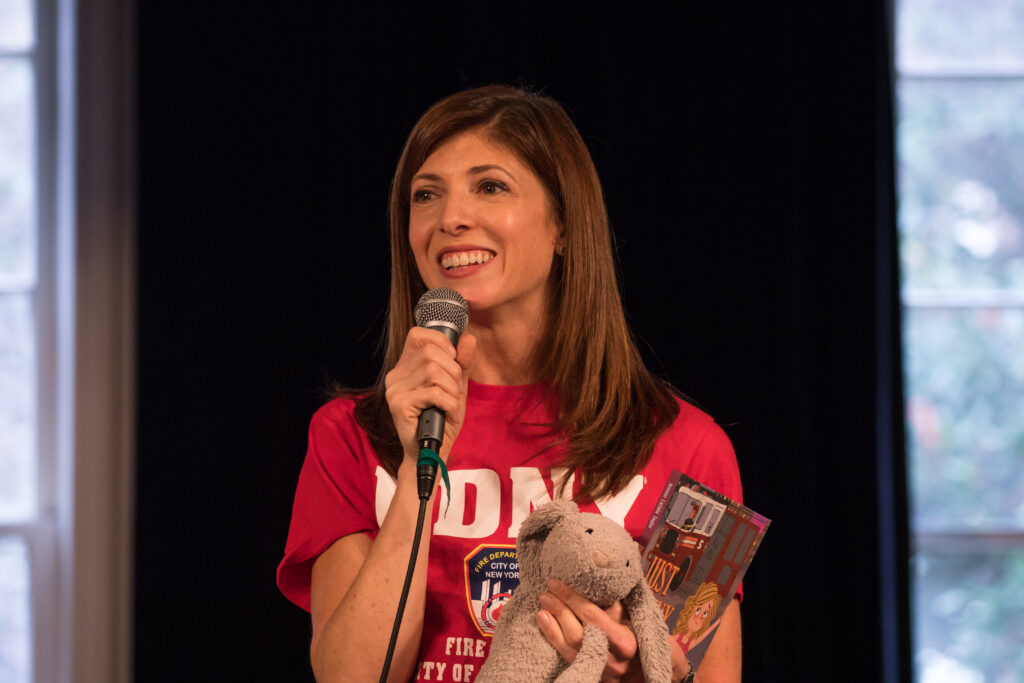 Barnes & Noble Staten Island Reading & Signing – 2/23/20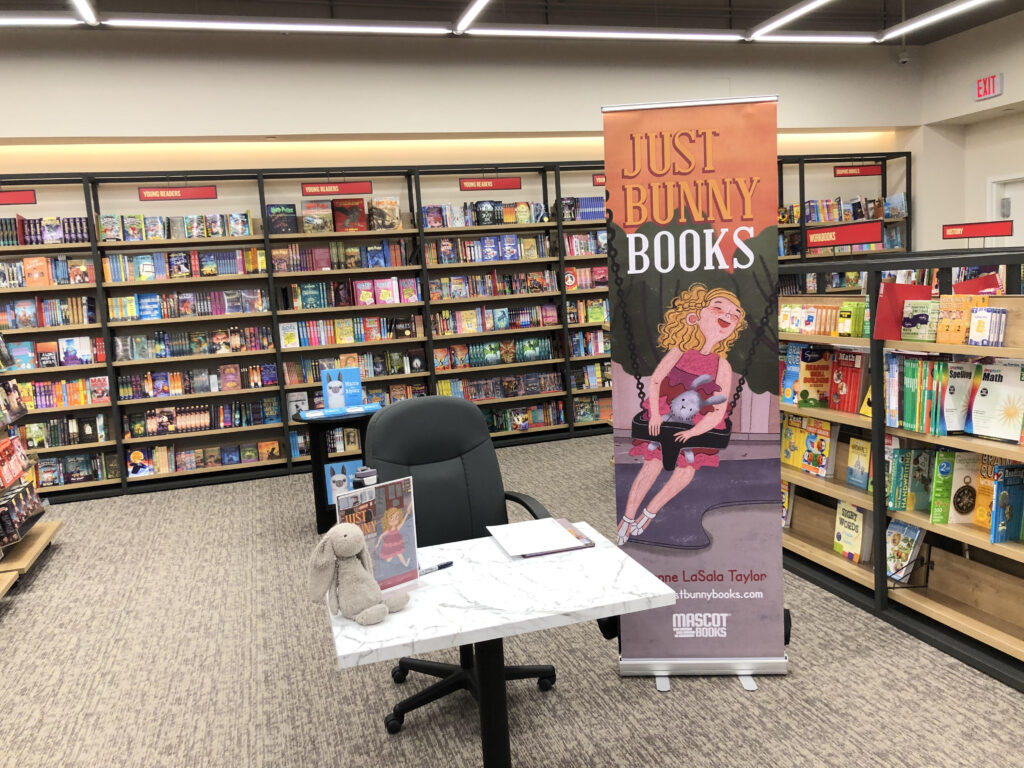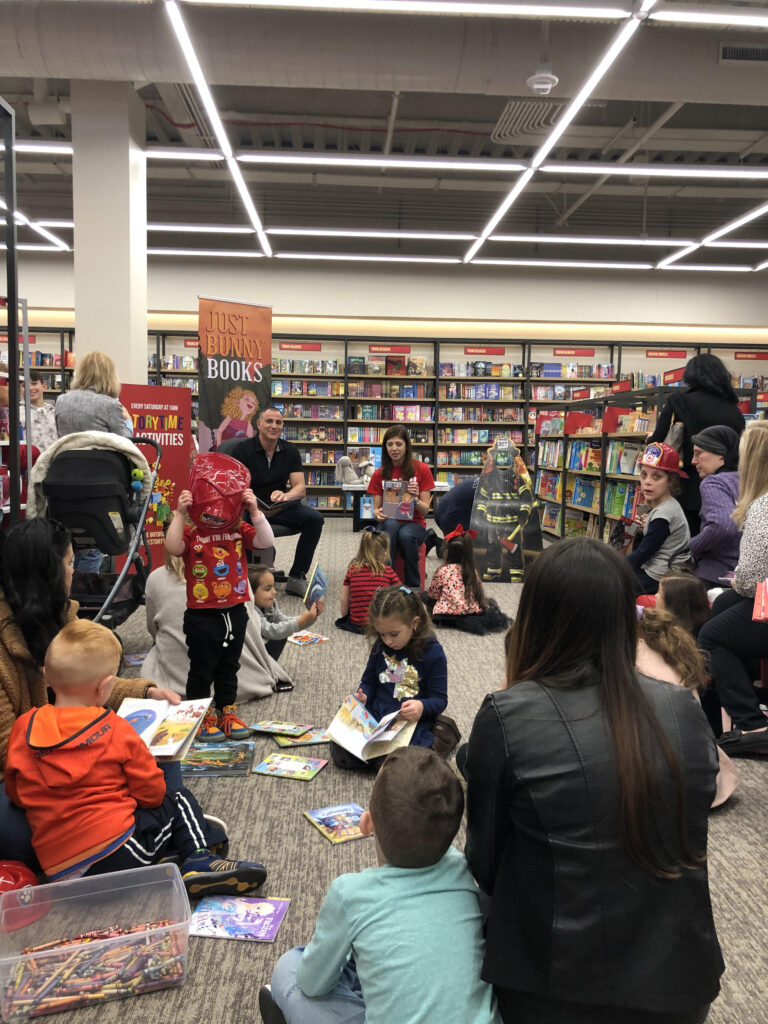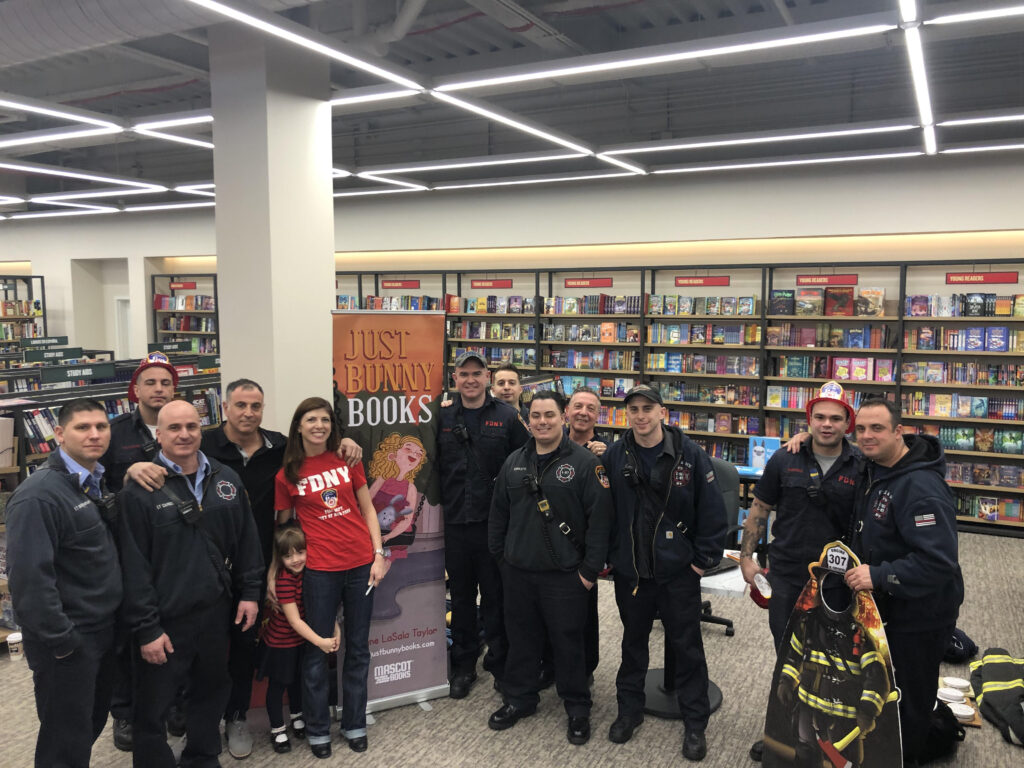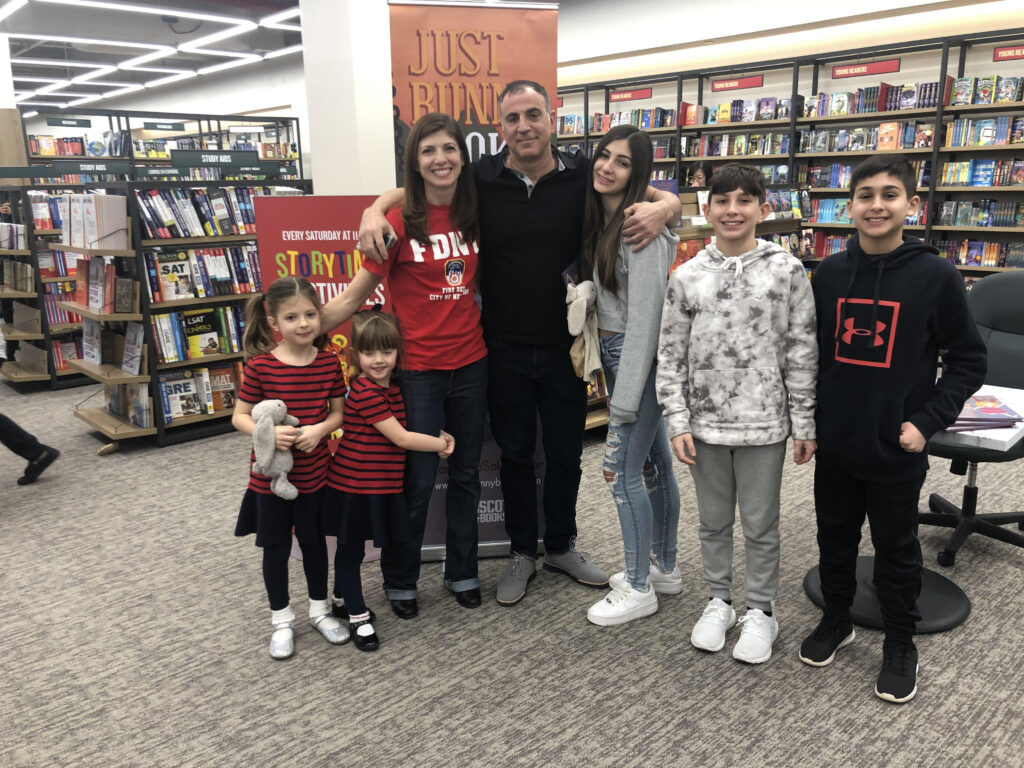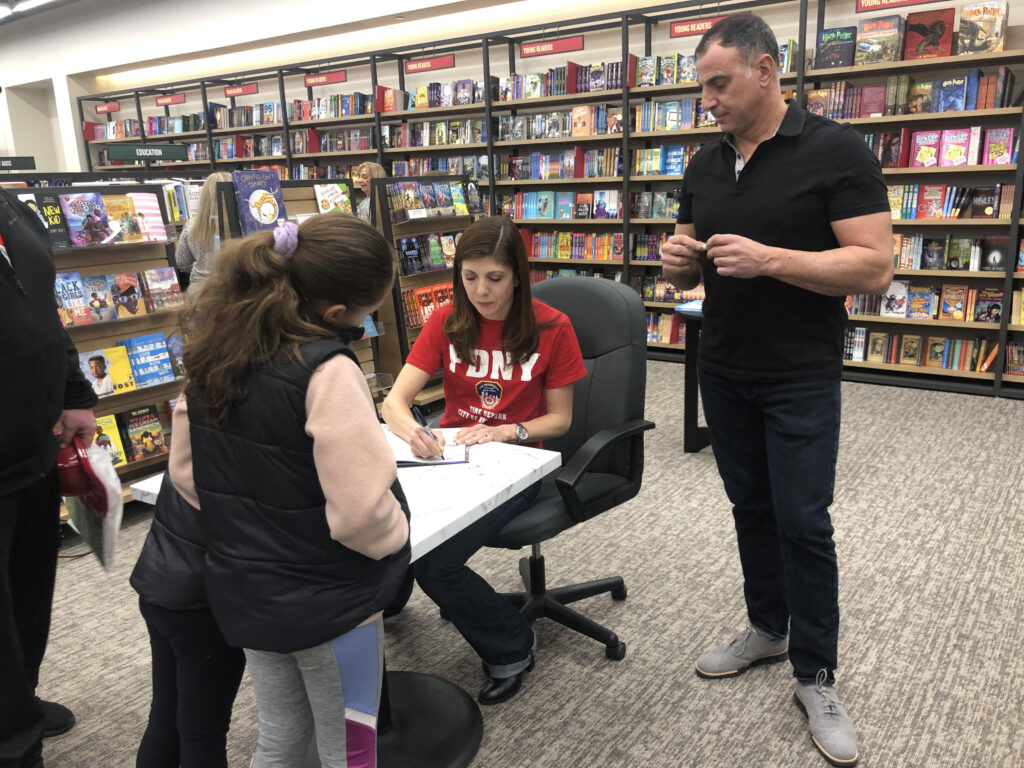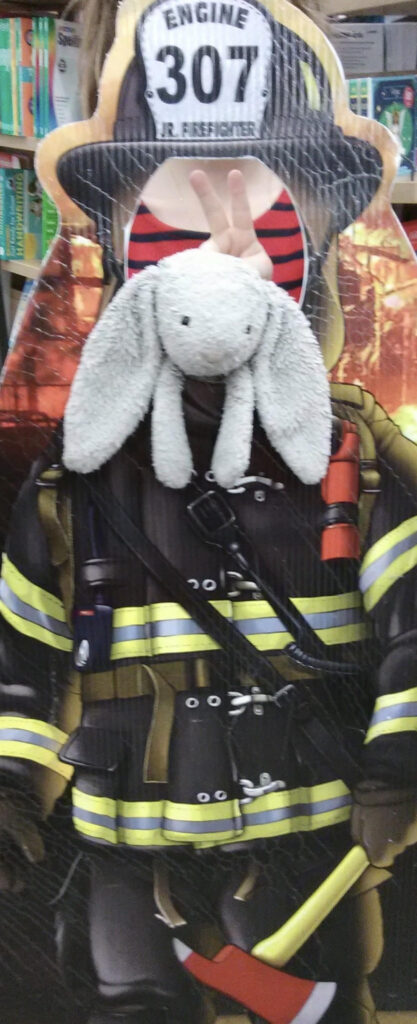 Reading and Signing at Tig & Peach, Pelham, NY – 3/9/20